Schools in Ridgeland
Home » Schools in Ridgeland
Ridgeland takes pride in the high quality education that individuals can receive from our public schools. The Ridgeland attendance zone of the Madison County school system is recognized as one of the best school zones in the state, providing students with an outstanding education. The teachers and administration of Ridgeland schools are second to none and continually strive for and achieve excellence in academics, athletics, visual and performing arts, and much more. The smaller schools of Ridgeland within Madison County allow for greater camaraderie among students and greater attention for each student. High expecations set at the schools help our children to succeed in life. You are always welcome to visit any of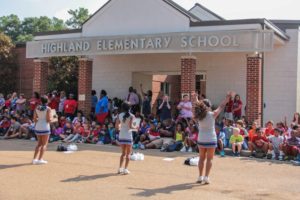 Ridgeland's schools and learn more.
Ann Smith Elementary
Grades K-2
306 S. Pear Orchard Road
601.856.6621
madison-schools.com/ase
Highland Elementary School
Grades 3-5
330 Brame Road
601.853.8103
madison-schools.com/hes
Olde
Towne Middlle School
Grades 6-8
210 Sunnybrook Road
601.899.8730
madison-schools.com/otm
Ridgeland High School
Grades 9-12
586 Sunnybrook Road
601.898.5023
madison-schools.com/rhs
Ridgeland is home to two private schools, offering an alternative to public education.
St. Andrew's Episcopal School
North Campus – Grades 5-12
370 Old Agency Road
601.853.6000
gosaints.org
Christ Covenant School
Grades K-8
752 Pear Orchard Road
601.978.2272
christcovenantschool.net
Holmes Community College – Ridgeland Campus has been thriving and growing in Ridgeland since 1985. Holmes provides core courses, technical and workforce training, and community enrichment classes.
Holmes Community College
412 W. Ridgeland Avenue
601.856.5400
holmescc.edu